It has been over two-decades since the death of Formula One great, Ayrton Senna, in the San Marino 1994 Grand Prix. This aside, he is still one of the most reputable and well-known drivers throughout the history of the sport. Senna's Formula One career spanned 10 years, and what a career it was. Full of action, new records, friends, and enemies, but most common of all, winning. He achieved what most athletes only dream about, that is, influencing a whole sport, and reaching the top of their fields. This article will look into 10 unforgettable Ayrton Senna moments throughout his illustrious career which will be in the hearts and minds of fans forever.
10. 1990 Japan Grand Prix
Coming in at number 10 is the Japan Grand Prix in 1990, not one of Senna's best highlights by any means. Possibly one of the most secretive moments in his career, Senna privately undermined old teammate and new rival, Alain Prost. Prost and Senna collided in 1989 at the same track, sending Senna packing and Prost on to win the championship. This time around, even-though Senna argued that poll position was incorrectly placed on the start grid, he was determined to do whatever it took to beat Prost. A highly risky plan, given the speeds and tight corners encountered, Senna took out Prost, while sacrificing his car as well, to pull off one of the ugliest, but perhaps greatest races of all time to take him to the championship.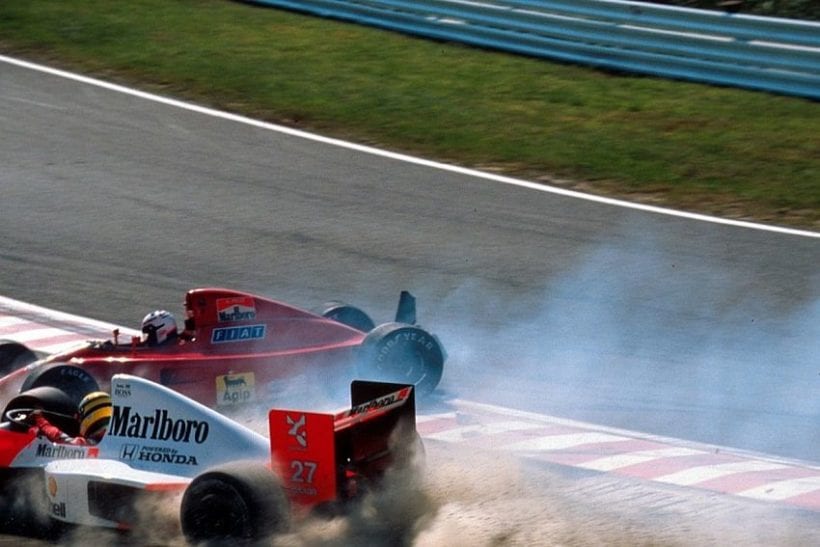 9. Schumacher
Perhaps two of the greatest ever F1 drivers in history, Ayrton Senna and Michael Schumacher became unlikely rivals. One a veteran, and the other a youngster in his first year, some say Schumacher had a very strong ego in his first years, others saying Senna became too content towards the end. It all began in 1992, when Schumacher was new to the F1 scene and accused Senna of driving at inconsistent speeds throughout the Brazilian Grand Prix, Senna claimed that it was an engine problem. Further in to the season, Schumacher crashed in to the back of Senna, sending the race in to a red flag situation. Senna took this opportunity to publically let Schumacher know what he had just done.At Schumacher's home race in Germany, a mere two races after their previous blow-out, Senna claimed to be held up in practice laps by the German.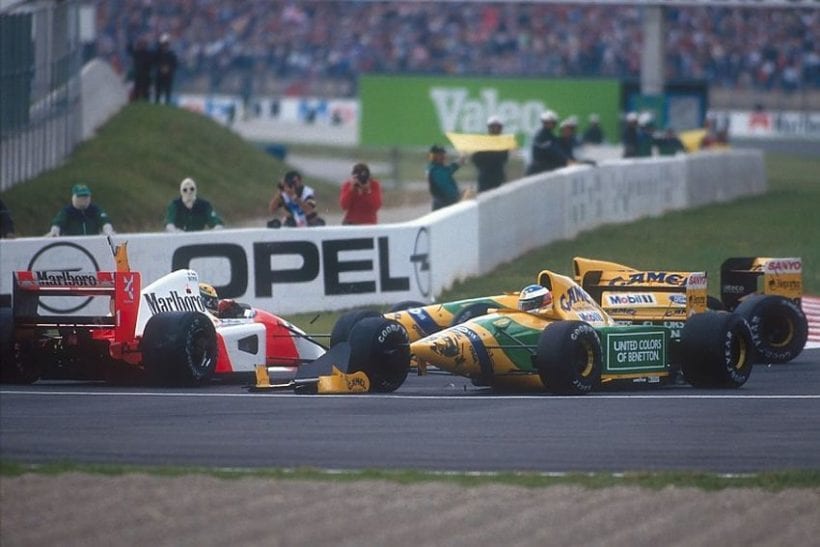 8. To and Fro with Jackie Stewart
The war of words between Senna and 3x world champion Jackie Stewart was one to never be forgotten. It all began when Stewart dubbed Senna as a dirty driver, claiming him to have been involved in more car-on-car contact than any other world champions combined. From this debate, one of Senna's most well-known quotes came about "If you no longer go for a gap, you are not a racing driver". This war was turned up a notch when Senna sent Steward the task of studying the past 10 years to find out if his initial statement was in fact true.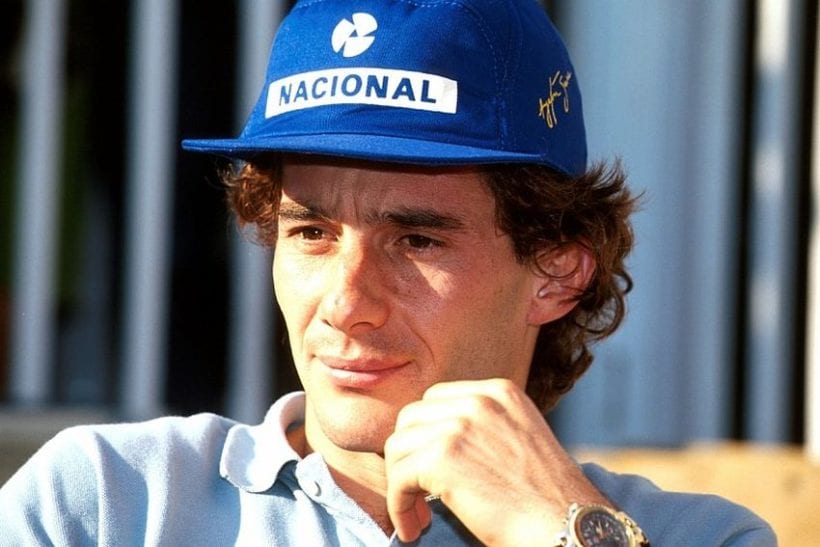 7. Mansell
One of the most famous battles in F1 comprises of Senna and Nigel Mansell in 1991. It was the Spanish Grand Prix and the two drivers were locked in a scuffle for second. The track was rather damp and Senna had the inside line. Mansell, however, managed to gain prime position for the upcoming corner and came out on top.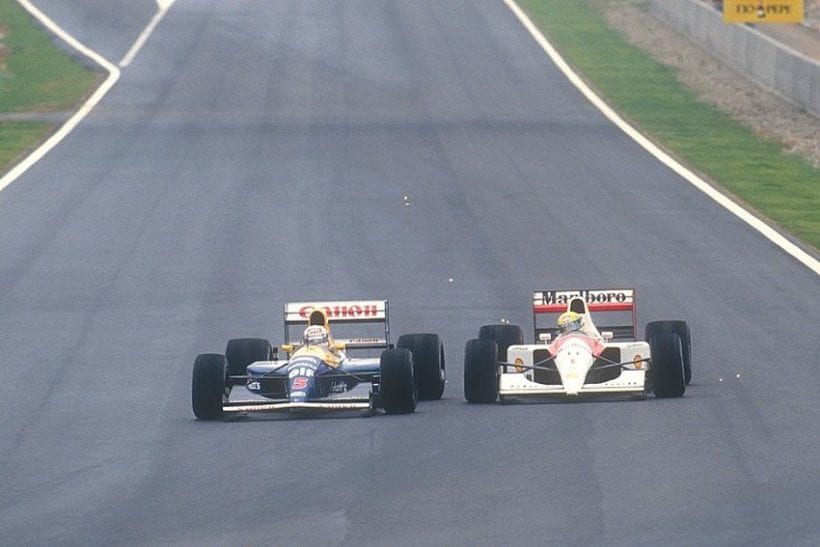 Their wheels were millimetres apart, but Senna refrained from an attempt to send Mansell off the track by swerving. This moment may seem strange to be in the top 10 list, but it goes to show that although many accused Senna of being a dirty driver, he could race tough and still remain a fair player.
6. Back to Japan 1988
Victory equalled a world championship for Senna in Japan 1988. After a rather slow start, slipping from high on the grid, he managed to crawl his way back in to contention about half way through the race. Before he knew it, he trailed then-teammate, Prost, by a fraction of a second. Possibly one of the greatest comebacks in the history of the sport, Senna overtook Prost on the main straight, before light rain began to fall and gearbox problems caused Prost to pull out of the race for first. As a result, Senna won his first championship.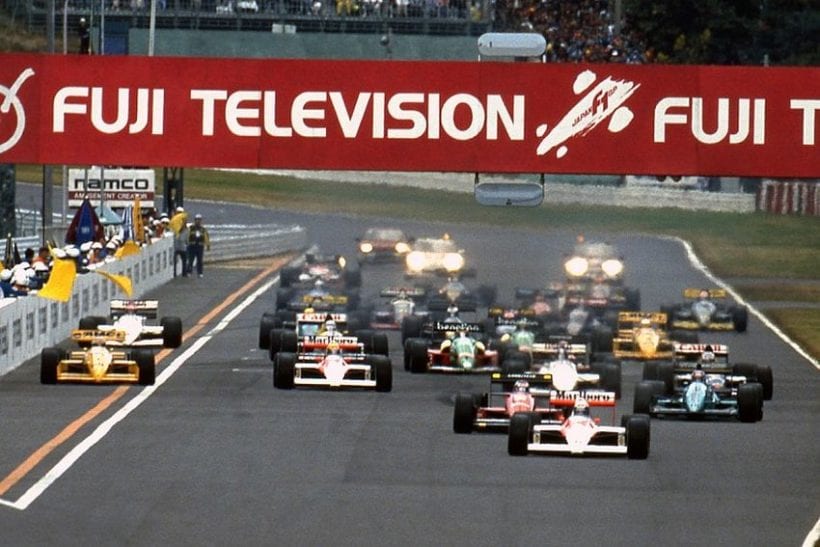 5. Brazil 1991
Home race victories were hard pressed for Senna. A 2x world champion by 1991, he had failed to win in Brazil. Gearbox issues came to no avail for Senna, butwith some luck on his side, he somehow found a way to marginally win his first Brazilian Grand Prix in 1991 in sixth gear. Post-race, Senna was in so much pain that his body kept spasming, however the heat of the moment took over and he was able to celebrate by lifting the Brazilian flag and his trophy to the crowd.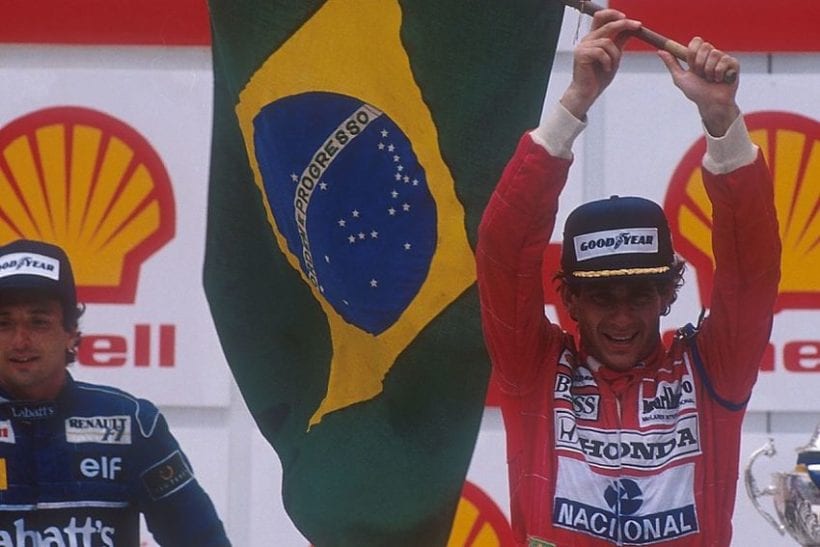 4. Monaco 1984
A rookie in 1984, Senna's early career was overtaken by a wet-weather move in the 1991 Monaco Grand Prix. Senna was on the hunt to surpass Prost, who was leader at the time. Due to wet weather conditions, the red flag was raised after 31 laps, Senna made-up 14 seconds on Prost in four laps prior to the flag, even-though he did not win on the day, everyone now knew who Ayrton Senna was.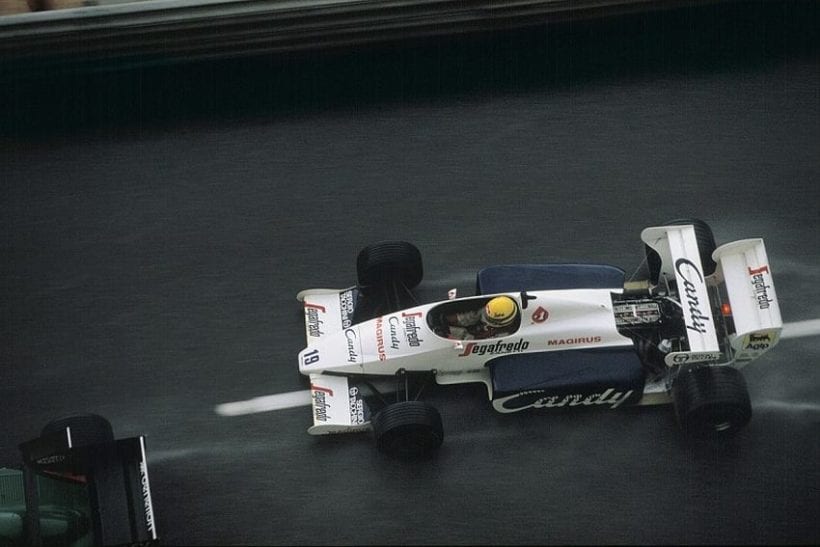 3. Portugal – 1985
Senna overcame some horrendous rain conditions to take his first ever Grand Prix win in Portugal 1985. He led every lap, ultimately winning by more than one minute with Ferrari Driver, Michele Alboreto the only driver to finish on the same lap.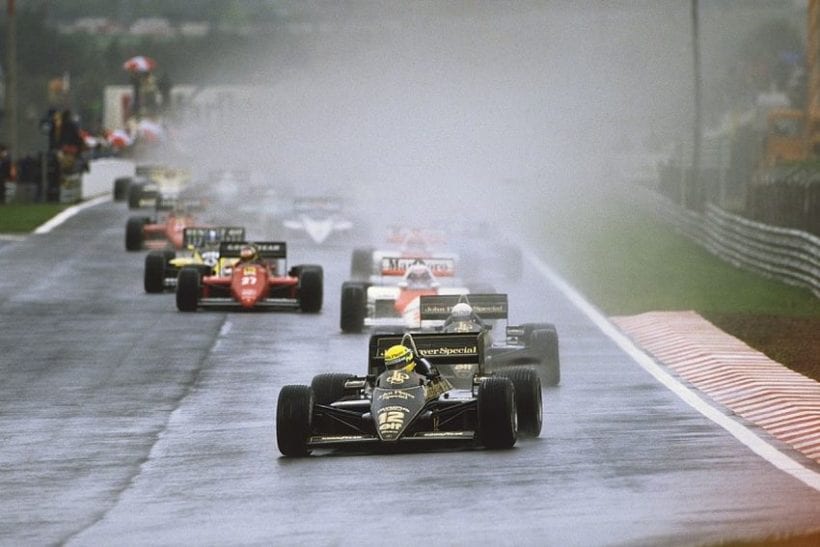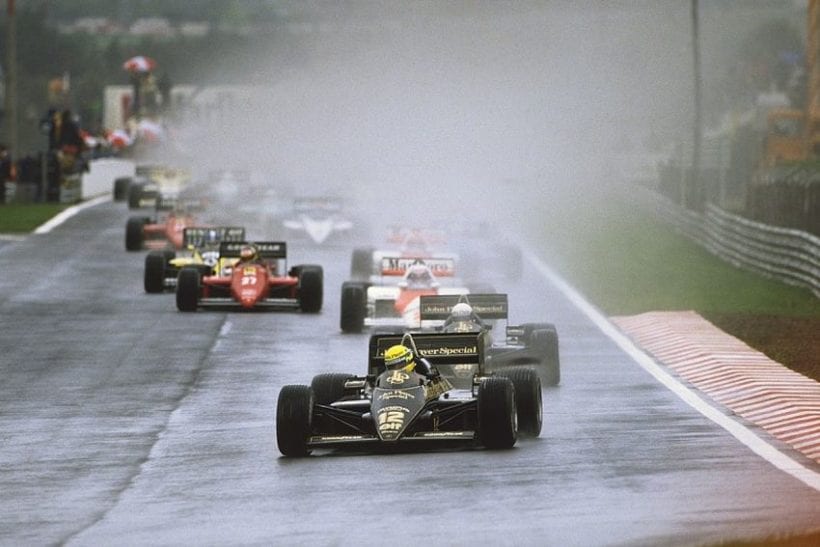 2. Qualifying, Monaco 1988
Claiming to be in a world of his own, quite literally, Senna stunned the F1 world with perhaps one of the greatest qualifying laps ever. He was in another dimension, so he stated, and that showed, crushing Prost by 1.427 seconds.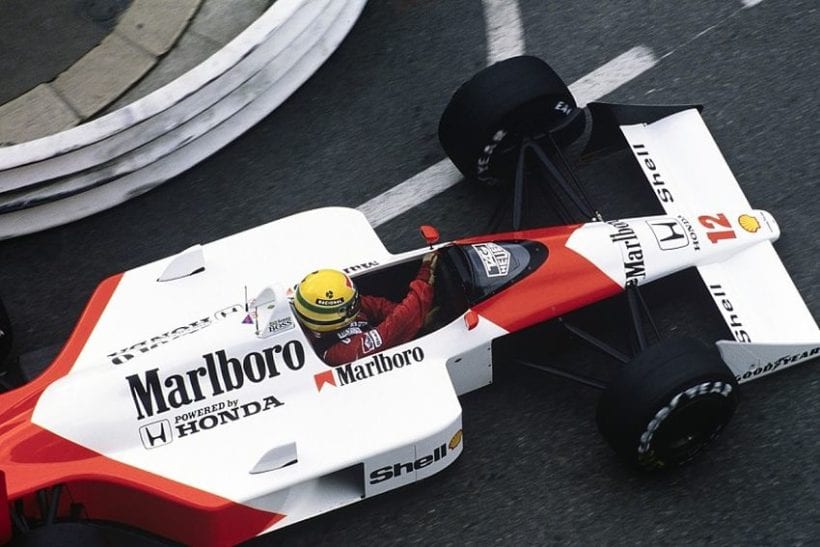 1. Europe 1993
Second to Senna's Monaco 1988 qualifying lap is Donnington, 1993. Regarded as the best first lap in history, Senna began the race fourth on the grid, slipping to fifth after the green light. Remarkably, he passed the four drivers ahead of him within the first lap, ultimately winning the European Grand Prix in 1993 by 1 minute and 23 seconds.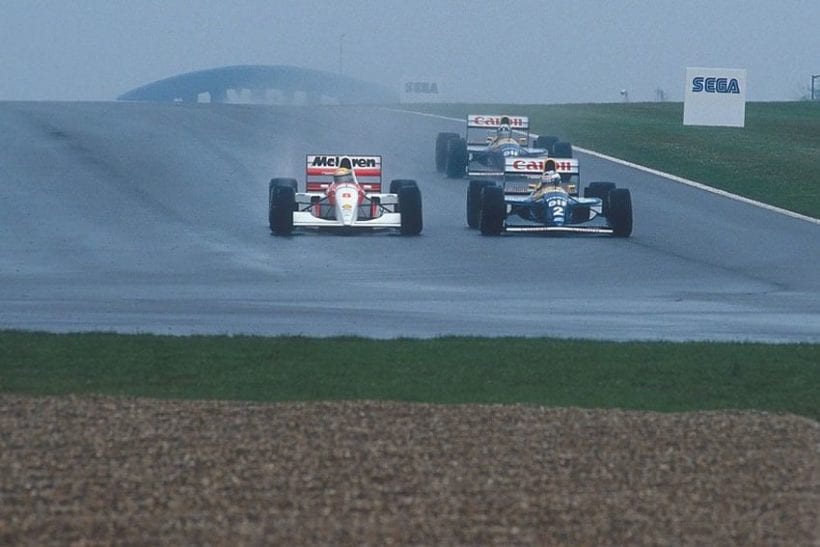 ---