The world of trucks has been rapidly changing and there are more and more trucks which bring something new. The manufacturers and innovative individuals are making those to be adaptable to each and every terrain and situation and there is now a trend to make them specific for some situations.
This was the reason why off-roaders have been created. These powerful units are the best if you decide to go off the roads and when you simply need a powerful unit that would withstand the harsh terrain and climate in front of it. The following list is comprised of the units that are considered the best off-roaders in the world and it should be noted that they all exist, are legal to be driven and can be either both or self-build. However, it should be noted that each one of them comes with a price, and they are all of six figures.
1. Mercedes-Benz G 63 AMG 6×6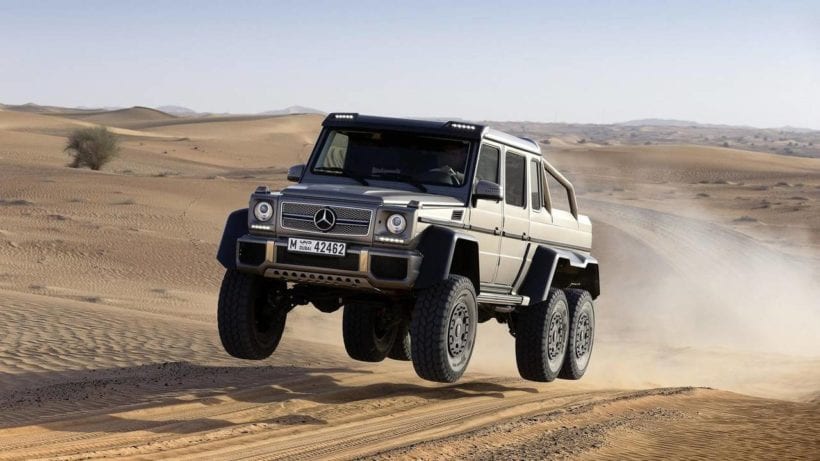 It should be noted that this is an original unit that has 6 wheels and which is extremely powerful. Even though there are a lot of similar units nowadays, this one was made a long ago and has stayed popular due to its strength and reliability.
2. Devel Sixty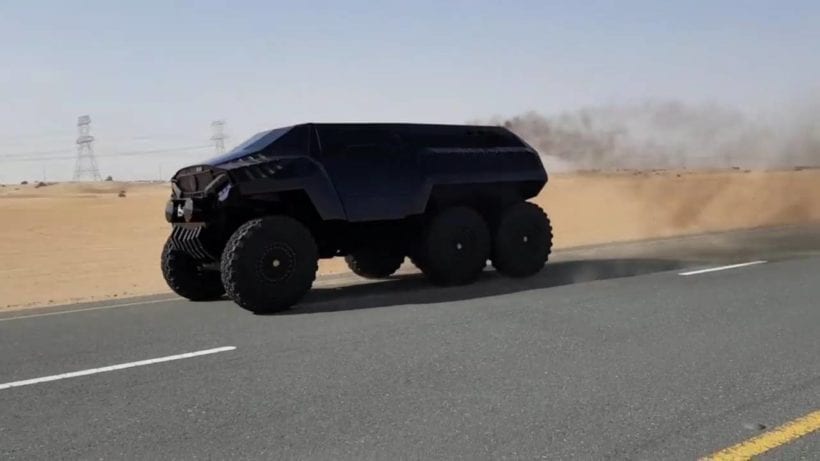 This one looks extremely powerful and its exterior design tells how magnificent and strong it is. It should be noted that it also has 6 wheels. The entire body of the unit is made from carbon-fiber. The unit is powered by a diesel engine of 6.75 liters and it is also a V8 one. Regarding the power of the unit, it is capable of providing 720 horsepower. However, there is even an option to have even a more powerful unit which would have 1,500 horsepower. However, the price of this unit is insane since it can be bought for $450K.
3. Roshel Senator APC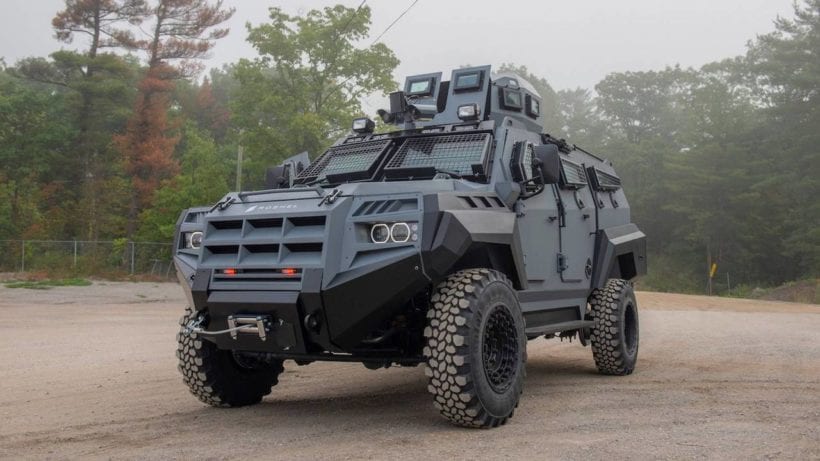 This has been the one that appeared the latest on the market in Canada. It should be noted that the unit has somewhat a military design and it has a lot of military equipment included.
4. Rhino GX Executive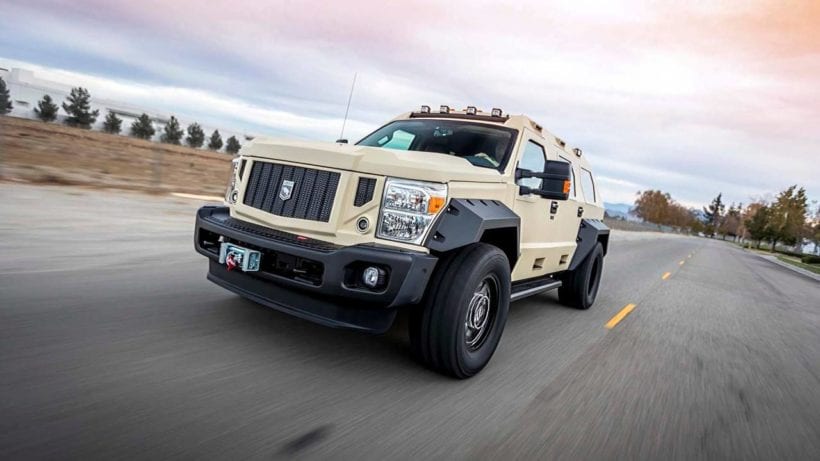 This is a pick-up which is actually Ford Super Duty. It needs to be mentioned that it has a modern and extremely luxurious interior. The exterior has also been designed to look both powerful and elegant. The price for this one tarts at 190K pounds.
5. Hennessey Goliath 6×6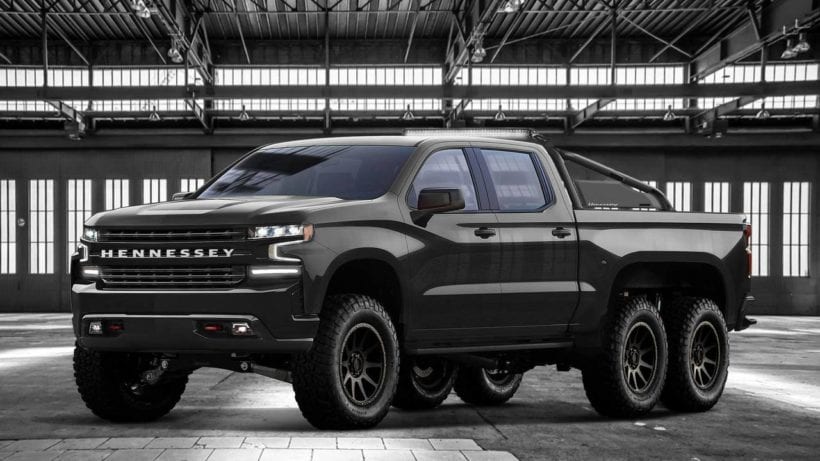 This unit looks extremely modern and powerful. The overall exterior design has been made in such a way that it shows how powerful and reliable the unit is. There are 6 wheels included here. Its engine has the power of providing 705 horsepower. It should be noted that the bed is a bit longer and that the tires used are BF Goodrich ones of 37 inches. There is also a quad exhaust included. The price for this one is $375K.
6. Southern Off Road Jeep Wrangler 6×6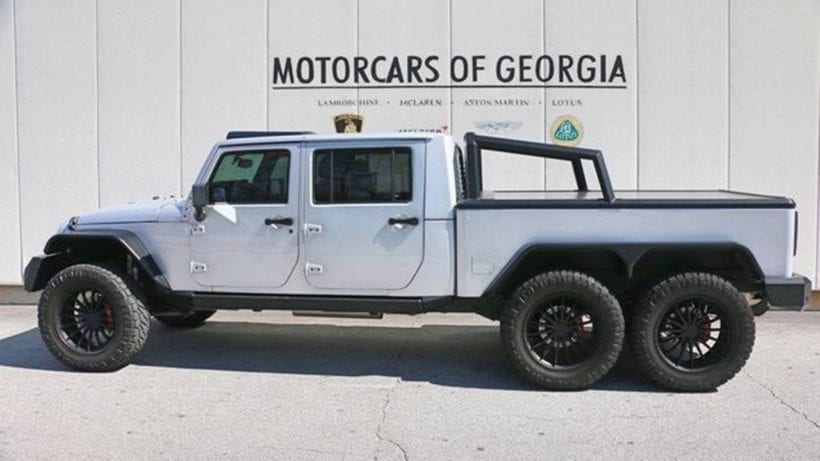 Another one with 6 wheels, but it has been stated that the truck has some problems with maneuvering. However, the power it has is astonishing. The unit used a hemi engine of 6.4 liters and this is also a V8 engine. There is also a suspension lift under the engine, a 4.5-inch one. The price for this one if $249,800.
7. Mil-Spec Automotive Hummer H1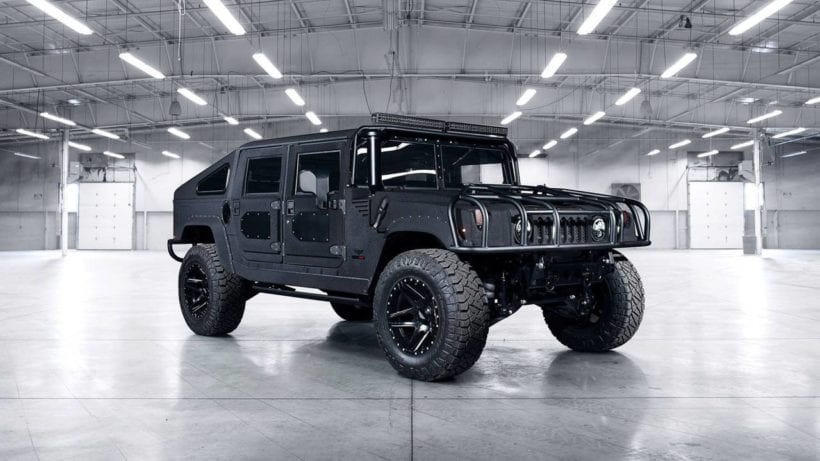 As it is already known, this unit has been made to be a military unit for operations in all conditions and circumstances. However, it is not only used in military since the truck is also sold to the civilians with a slightly modified body and equipment. The unit has a very powerful 6.6 liter engine, Duramax one, which is capable of providing 500 horsepower. The price per unit is $250K.
8. East Coast Defenders Project Viper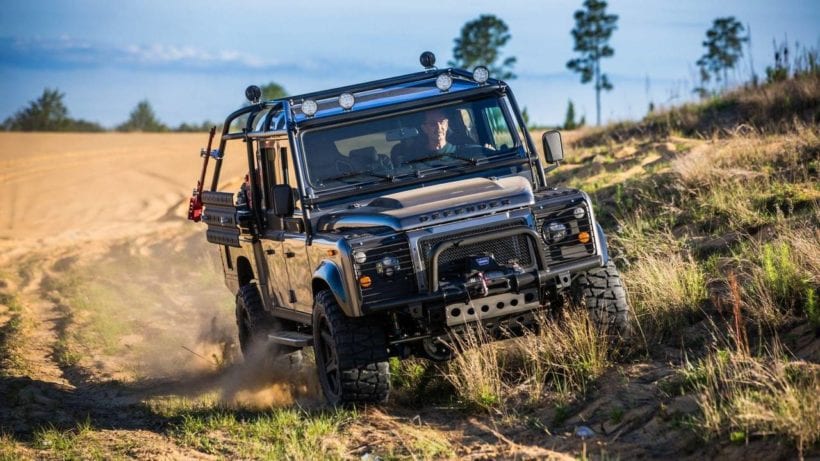 The design of this one is a bit traditional but its strength and capabilities are amazing, the unit has wheels of 20 inches and there are a lot of other accessories and equipment gadgets that would make every off-road trip safe. The engine is capable of providing 430 horsepower. The price per unit is 230K pounds.
9. Hennessey Velociraptor 6×6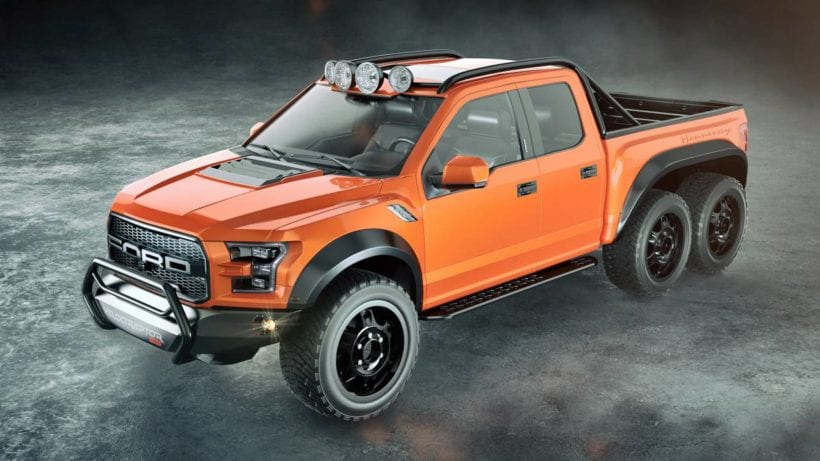 Another one with 6 wheels, the unit has the capability of reaching 60mph in only 4.9 seconds. The exterior and interior designs have been in such a way that they are very modern and posh.
10. Karlmann King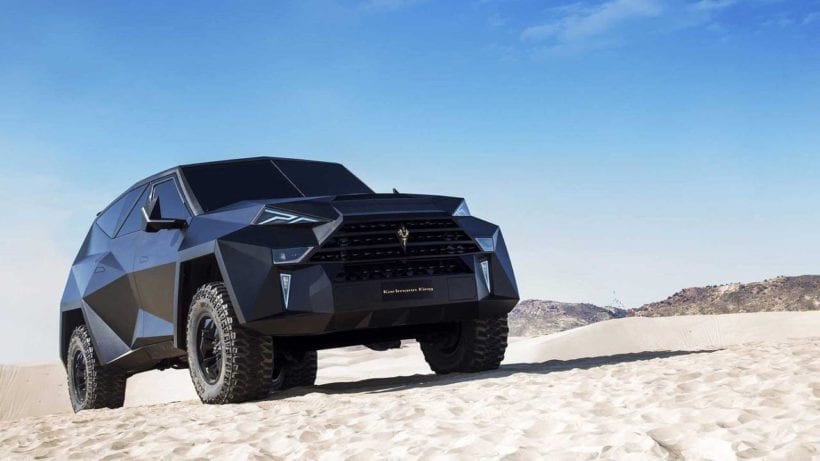 We can freely say that this one looks like it came from the future or from some kind of a futuristic movie. It has an extremely peculiar exterior design which is all characterized by sharp angles and edges. However, it looks very powerful and luxurious at the same time. The engine used is a 6.8 liter one and it has been estimated that the price for the unit if at about $1.5 million.
11. Mercedes-Benz Unimog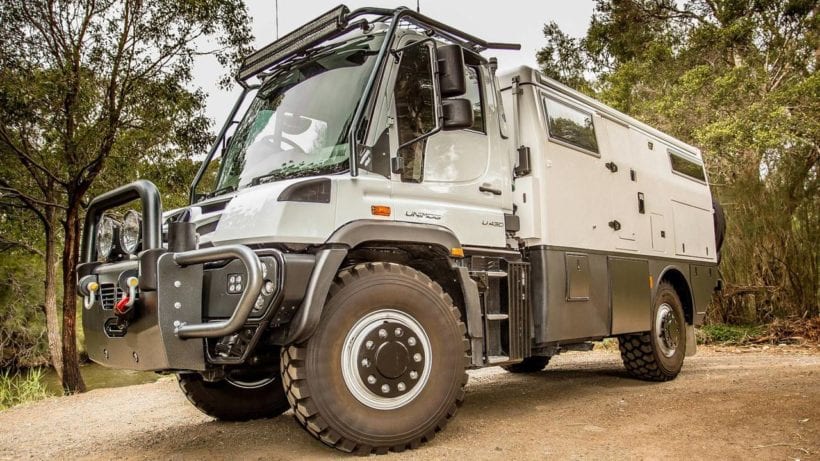 Well, this one looks more like a container than a truck but it has been made like that with purpose so that they would have huge closed cargo area. The unit is also made from steel entirely and it has four wheels.
12. Multidrive Technology Toyota Land Cruiser 6×6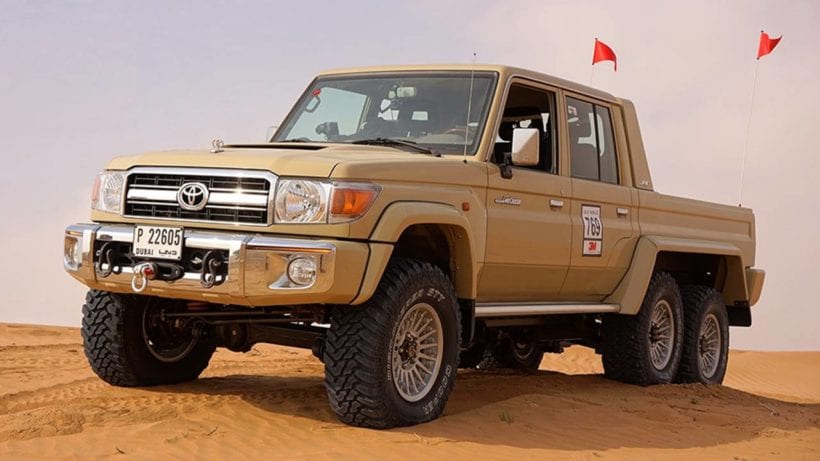 The unit has 6 wheels and it is one of the most popular off-roaders. It is also available in various colors and different equipment packages.
13. Rezvani Tank Military Edition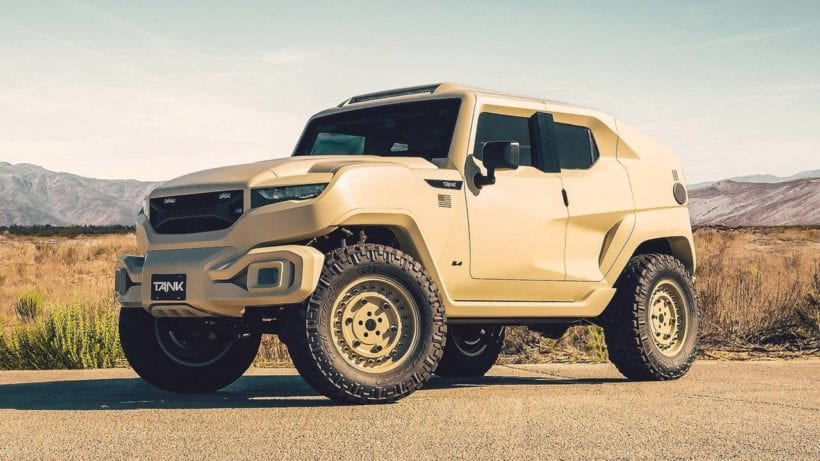 The unit is made with 4 wheels. The engine under the hood is a very powerful one and it is capable of providing 707 horsepower. We are talking about a Hemi engine. This unit can be bought can be for 225K pounds.
14. Avtoros Shaman 8×8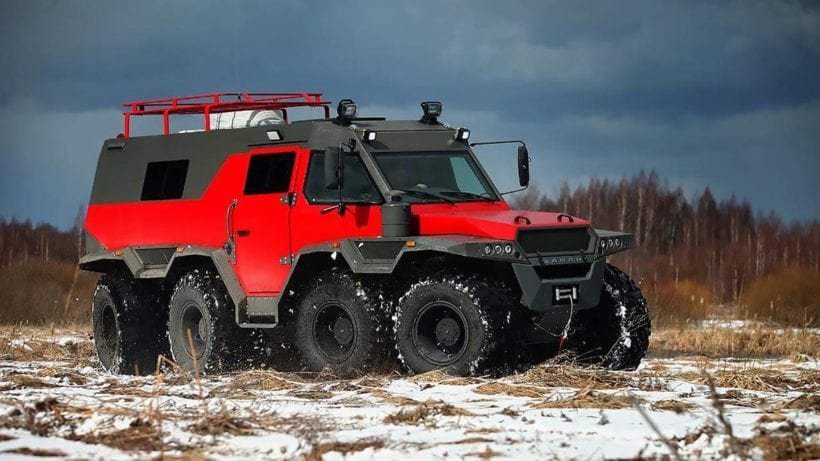 This one has been made to literally be capable of overcoming any terrain and weather obstacle. It has 8 wheels and its engine can provide 170 horsepower. The price for it is 165K pounds.
15. Any sports car converted to a battle car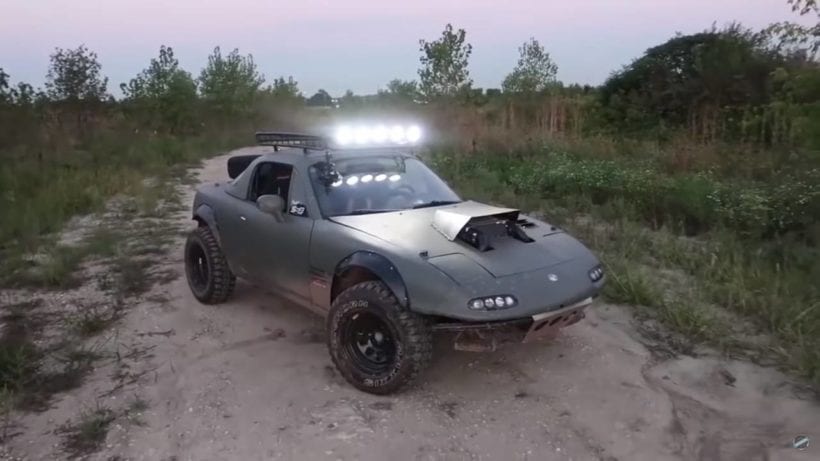 This one has been made of Mazda MX-5 by a few modifications. Namely, the suspension is raised, and bigger tyres have been added.
---